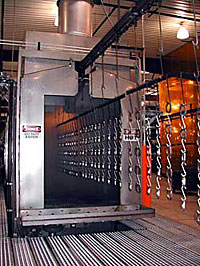 Click here to take a picture
tour of our Powder Coating.
Powder Coat Paint System
-800 Pound Part Capacity (400 Pounds per Hook)
-4.5' x 6.5' x 12' Part Window (Expandable for Special Applications)
-Line Speeds from 3-9 ft/min.
-5 stage Wash/Pre-treat System with R.O. final Stage Rinse
-High Capacity Dry off oven
-2 Roll On/Off Line Booths for Quick Color Changes
-High Capacity Large Cure Oven with Cure Times from 21 to 63 min. @ Temps up to 450 Degrees F.
-PLC Central Control System for Part Specific System Control (Batch Recipe's)
-Salt Spray Results in Excess of 650 hours on CR and HR P&O Materials.
*Capable of Handling Large Volumes
*Storage and Warehousing Available
*Extremely Fast Turn Around (Usually Less than 1 Week on Available Powders)
*Extremely Fast Turn Around on Quotes (Usually Less than 1 Business Day)
*Special Masking and Part Hanging Available
*Special Packaging and Assembly Available